"We test drove a bunch of different file transfer platforms, and MASV was the only one that always worked without fail."
– Jordan Maltby, Owner and CEO, Shadow Magic Studios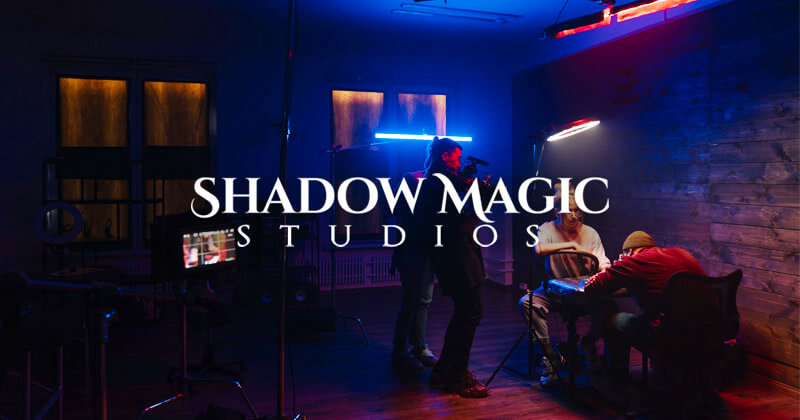 Who is Shadow Magic Studios?
Shadow Magic Studios is a boutique digital lab in Glendale, CA providing post-production services including dailies, LTO archiving, DCP creation, and VFX pulls for independent filmmakers and other content creators. What makes Shadow Magic a little different is that it doesn't have a formal brick-and-mortar facility. Instead it operates as a decentralized operation powered by the cloud and remote operators and it passes its low operational cost benefits to its clients. The result is an offering of studio-level digital lab services at a fraction of the cost.
The company also offers innovative hardware with its easy-to-use yet powerful Magic Box DIT rig, which not only functions as a remote media vault, but also as a launchpad for uploading media to the cloud and backing up large files from anywhere. The Magic Box can also be supported and even operated remotely, giving filmmakers even more options and peace of mind.
But even though they're really good at it, they're not just about the technical stuff. They're also creative to the bone: Jordan Maltby, the owner and CEO, is an editor himself with credits including the upcoming How I Got There, Welcome to Mercy, Once Upon a Time in Venice, Army of One, Wind River, and The Sound and the Fury. He's a self-confessed film junkie who got his start editing on Final Cut Pro 1.0 when he was in the sixth grade – and hasn't looked back since.
File Transfer for Large Files
Raw footage, Dailies, DCPs — whatever. MASV can send it. 💪
The Challenge: Technical Frustrations and Constant Deadlines
Like most post-production houses, Shadow Magic Studios lives in a world of constant deadlines and unending pressure to keep client media safe and secure. Geographically dispersed jobs are the norm – a recent project had its L.A.-based team doing dailies for a crew shooting in Minnesota while working with a film editor in New York City. As you might expect, having a large file transfer service that works reliably and doesn't break people's brains with technical details is kind of a big deal for them.
"There are a lot of ways to transfer files," he explains, "but there's a learning curve that goes along with that sometimes. That can be frustrating, especially for creatives who want to spend their time being creative and not dealing with technical setup or issues."
Easier said than done, however, says CEO and owner Jordan Maltby. He's used several different large file transfer services and methods in the past, including FTP and other file transfer software. But they all had the same maddening things in common: Technical problems and frustration, especially from clients and partners with limited patience for re-configuring firewalls and apps or installing complicated software. 
The Magic Box DIT Rig
The company also required a reliable and fast file transfer solution to pair with its Magic Box rig.
Magic Box is a powerful DIT station that provides a safe and efficient way for filmmakers to upload and download footage from the set to editing or archiving. It comes equipped with:
Onboard card readers

Up to 128TB of onboard storage across 2x high-performance RAIDs

Easy-to-use

Hedge

software
The beautiful part about Magic Box, though? It offers a completely remote workflow.
Instead of lugging it from location to location, filmmakers leave it at a near-set location connected to the internet, and can just use it like a shared hard drive, uploading files to a MASV Portal throughout the day and having dailies, LTO Archives, and a secure cloud backup ready within hours.
But Maltby says initially finding a large file transfer service to use with Magic Box that was easy to use, relatively inexpensive, automated, secure, and that just plain worked – especially without throttling the bandwidth of others on their network – had proven surprisingly difficult. 
Until they found MASV. 
The Solution: Automations. Shadow Magic Studio's New Best Friend
MASV's ultra-fast yet surprisingly simple service delivered everything Shadow Magic Studios had been looking for from a large file transfer service with global reach – and then some.
"We test drove a bunch of different file transfer platforms, and MASV was the only one that always worked without fail," Maltby says. MASV is able to achieve maximum transfer speeds and reliability thanks to the dedicated global network of 300+ servers powered by Amazon Web Services.
Enter MASV Watch Folders
MASV's Watch Folders combined with MASV Portals turned out to be the perfect solution to complement the Magic Box workflow.
MASV Watch Folders allow users to automatically transfer massive files and folders to Portals, clouds or specific recipients: When a file or folder is dropped into a Watch Folder, it automatically uploads to a preconfigured location (typically a MASV Portal). If your connectivity is disrupted, MASV Watch Folders instantly pick up where they left off and continue the transfer until complete.
The power of MASV Watch Folders allowed Shadow Magic Studios to develop a virtually hands-free workflow by intelligently combining upload and download automations. It works like this:
When clients record raw footage in the field, they transfer the footage from their device's memory card to the Magic Box's onboard storage via Hedge software.

MASV automation then kicks in: As soon as content touches Magic Box's onboard storage, the files begin uploading to a predefined MASV Portal

Once these files are uploaded to the Portal, automated downloads to any intended recipients begin. This Includes cloud archive buckets (Cloud Vaults) and secure machines that Shadow Magic's dailies operators can remote into.
Introduce MASV to Your Workflow
Speed up your file delivery workflow.
The Result: How MASV Simplified Shadow Magic Studio's Remote Workflow
It all adds up to a ton of saved time (and just a teensy bit of stress relief) for Maltby and his clients.
Peace of Mind
He's now got peace of mind that client media is protected by top-of-the-line TLS encryption on file transfers both in flight and at rest – not to mention being automatically backed up in the cloud – and that MASV's TCP acceleration technology doesn't slow down everyone else on his network. His clients love that they don't need an IT degree to send or receive a large files, and that their desired folder structure is always preserved on every transfer.
Reliability Guaranteed
The foundation for MASV's high-reliability Watch Folders lies in its approach to packaging files for delivery.
Some large file transfer services will experience issues rendering temp files to a folder. MASV uses a "package" metaphor — everything you want to send is in a folder, which is at the appropriate moment rendered to a package and send via Cloud. The result is a simpler and more predictable transfer experience.
"If you're downloading a half terabyte media card, you don't have to sit there and wait for a half an hour – you can go and do other things knowing it's going to upload when it's done. Those little seemingly insignificant tools are actually huge time savers, because the automation also works on the other end."
Faster Turnaround Time
That Minnesota-L.A.-New York City project we mentioned earlier?
"We were able to do those OCF transfers from set to LA, process the dailies, and push them to the editor in New York all in about three hours. And we'd do that twice a day," he says, something that simply wouldn't have been possible pre-MASV.
Working with the MASV Team
Maltby says MASV's technical and support teams were a joy to work with throughout the development of this unique workflow, along with being open to his feedback on the development of the Watch Folder feature. "I'm not going to say I inspired (Watch Folders)," he says with a grin. "But it's one of those things we had talked about over a few months. It has big connotations in that you can multitask more, and you don't have to spend time waiting for stuff.
MASV File Transfer
Get 20 GB to use with the fastest, large file transfer service available today, MASV.