Media Teams
Send Large Files

With MASV

Quickly transfer large files online without performance issues or expensive contracts. Try MASV for free today.
Avoid Compression

Share heavy image & video files with a max size of 15 terabytes per file.

Go Fast Without Fail

Global data transfer without slowdowns or delivery errors.

Finish Tasks Now

Don't wait for us to call you. Create your free account and send files today.

Large File Sharing Without Compromise
File transfer services like Signiant want you to compromise on simplicity in favor of performance while apps like WeTransfer do the opposite.
We offer both incredible speed and reliability, all wrapped in an intuitive interface.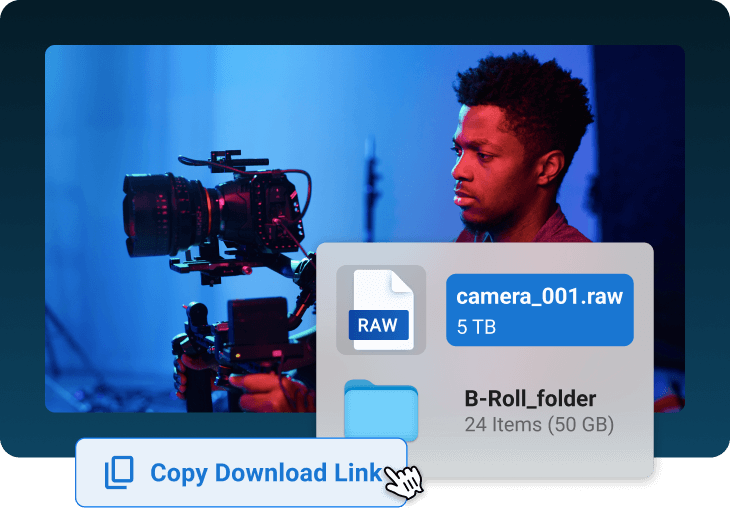 Work Effortlessly
Simply drag and drop files/folders onto a browser. No required plugins or installs.
Accelerate Globally
Harness your max bandwidth to share hundreds of gigabytes at once, without fail.
Enjoy Freedom of Use
You only pay per download. There is no charge to onboard your team or clients.
Why Our Customers
Love Us
MASV is trusted by 9,000+ professionals to streamline their media workflows.
MASV professes to do large file delivery really well. And it does it really well.
Robb Wagner
Founder
Stimulated Inc.
I recommend MASV to everybody. It's a necessity to survive in this business.
Sheila Lynch
Operations Manager
Hell's Color Kitchen
MASV does exactly what it's supposed to do. It has solved my file transfer problems.
Steve Giammaria
Senior Sound Editor
Sound Lounge
Send Large Files Free
Reliably transfer files without limits on size, speed, and number of users.
Tailored for Media Security
MASV is authorized as a secure vendor for major productions, having passed TPN, ISO, and SOC 2 audits.
Collect Large File Transfers
Invite anyone to upload and share big files to your inbox or a cloud storage with a personalized file upload Portal.
Add a Cloud Storage Service
MASV can ingest files you receive to a defined cloud storage space. We support cloud directories, buckets, and MAMs.
Your Search is Over. Send Big Files Today.
Get up to 70 GB as a free credit with MASV large file transfer.
Frequently Asked Questions
Where can I send big files for free and fast?
MASV is one of the best ways to send big files fast for free. Unlike other platforms, MASV is specifically designed for large file sharing. It has no file size limits and it utilizes most of your internet bandwidth to accelerate large datasets online. All you need is a browser and there is no cost to sign-up for MASV. You get 20 GB free to use. After that, you only pay per gigabyted download — at costs as low as $0.05 per GB.
How do I send large files securely?
MASV is a secure option when transferring copyrighted property and sensitive material over the cloud. Below is MASV's security posture which makes it a viable secure file transfer candidate:
MASV is validated by the Trusted Partner Network, an industry-leading security assessment led by the Motion Picture Association.
MASV is certified under ISO 27001 and SOC 2 Type II.
MASV operates on the AWS platform, which features built-in, on-premise, and cloud-based security protocols.
All MASV transfers are encrypted, both in-flight and at-rest. End to end encryption is coming soon.
Users can password protect every transfer.
Users are required to provide a 12-character password when creating an account.
All download pages receive randomly generated URLs that are next-to-impossible to guess.
MASV is fully GDPR compliant.
How can I send large files via email?
How to send large files over email is a common ask by many professionals, as it's such an important tool for day-to-day communications. MASV makes large file transfers over email simple. Just upload your large file — up to 15 TB per file — and choose between the following options:
Send file as email: MASV will send a download link to your email recipients.
Generate a shareable link: MASV will generate a shareable link which you can copy and paste into any email field.
Can I send large files from my iPhone or Android device?
If you need to send large files from your phone — like a ProRes recording on the iPhone — MASV's browser upload window can be accessed through your mobile device. MASV is designed for full compatibility out of the box with the latest flagship mobile operating systems.
How do I send large files like videos and images?
Videos and images are notoriously hard to send because of their large file sizes. MASV is a file sharing service specifically designed to quickly move heavy media files like 4K video footage, high-resolution images, and production files. MASV users can share up to 15 TB per file worldwide to ensure fast, secure delivery regardless of distance, which makes it a great option for videographers and photographers working in a remote location.
How long will it take to upload a large file?
The time it will take for your transfer to complete depends on your bandwidth (upload/download). MASV can utilize your complete available upload/download bandwidth to provide you with the fastest speeds. Although, many cloud services will intentionally limit your speeds to save on their operating costs. MASV utilizes your complete available upload/download bandwidth to provide you with the fastest speeds possible. In a recent speed test, MASV is shown to be 2X faster than WeTransfer in uploads and 10x faster in downloads, when transferring the same file.
Is MASV better than Dropbox to send large files?
Unlike Dropbox, which is designed for file syncing and storage, MASV is specifically built to quickly move large files like raw 4K camera footage and high-resolution photography. MASV is powered by an accelerated global cloud network that emphasizes speed and secure, reliable delivery above all else. As such, it is used my thousands of media professionals around the world to speed up workflows and keep production schedules on track.
What is the maximum size limit for sending large files with MASV?
The maximum file size of a single file within a package is 15 TB. MASV can easily transfer up to 50 GB over a browser. Unfortunately, browsers tend to limit transfer performance for big files. While MASV can share hundreds of gigabytes over a browser, it is recommended to use the free MASV Desktop app for anything above 50 GB. The Desktop app can support multiple 15 TB single files for virtually infinite file and package sizes, using state-of-the-art cloud and software-defined WAN technology to ensure maximum flexibility, capacity, and performance, whether you're sending files locally or across the world.