"My process for delivering files to clients before MASV was fractured. It was a combination of a lot of different tools to achieve one end result. After MASV, we were able to use one tool to achieve that same result."
– Garrett Sergeant, CTO, Simple DCP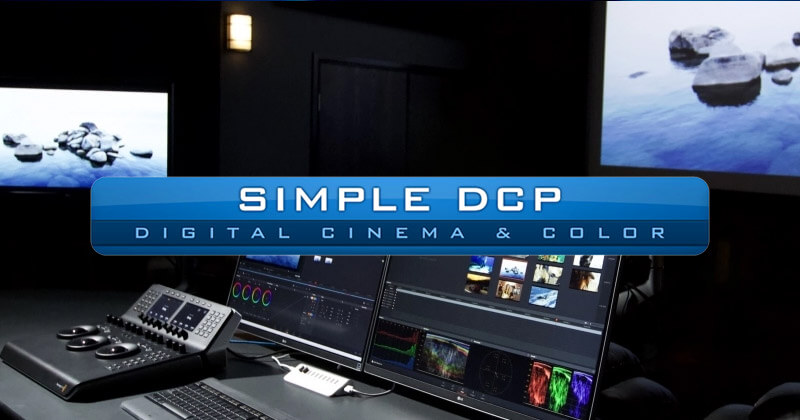 Simple DCP is a digital cinema mastering facility from Culver City, Calif. that primarily produces Digital Cinema Packages (DCPs), Blu-rays, and DVDs for independent filmmakers and the film festival circuit.
The company primarily acts as a resource to help film festivals organize print traffic from filmmakers around the world – managing file transfers, solving technical problems, consolidating hard drives and even validating content to ensure seamless playback during the festival.
"We provide them peace of mind," says CTO, partner and co-founder Garrett Sergeant. "Each festival has their own needs, and we cater to those needs."
File Transfer for Large Files
Send raw footage, Dailies, DCPs — whatever. MASV has you covered. 💪
Enterprise File Transfer That's Too Complicated
Simple DCP lives in a world of hard deadlines.
Deadlines from filmmakers, deadlines from film festivals and their print traffic coordinators, and deadlines from other clients. And these deadlines aren't negotiable. That's why the ability to transfer large digital files quickly and reliably to film festivals and filmmakers around the world is paramount.
"They want to work with a party they can trust. Festivals know that when they hand over their print traffic, they're basically handing over their lives. If we can't deliver, then they're very much in the lurch. They're really relying upon us to make certain we get them their content in a timely fashion."
But though Simple DCP has always been extremely technology savvy, its file transfers often ran into frustrating technical difficulties on the receiving end. The company has worked with various solutions such as Filemail, Aspera, and Media Shuttle, but Sergeant says they often resulted in some kind of annoying technical issue for clients – which turned into big headaches on his end.
"Because Filemail hosted content local to the uploader, it became very difficult for somebody on the downloading end to then get that content. We found that enterprise solutions like Media Shuttle and Aspera required a lot of back-end IT work. Not only do you need to download software to access those services, but you need to make certain you have open ports that will allow you to use those channels appropriately."
Simple DCP wanted an easier, less technical file transfer solution that was fast, affordable, secure, and reliable.
"We needed to be able to send very large files very quickly and then allow the filmmakers to take control of those download links and use them as they saw fit. Other solutions on the market were either lacking in terms of speed, or their usability, or their reliability."
Enterprise File Transfer That's Easy-to-Use
Get enterprise-grade performance on a simple, intuitive interface.
MASV: Client-Friendly and Affordable
Because sharing large files quickly is crucial to the business, Sergeant says Simple DCP is well versed in most file transfer solutions on the market.
High on his wishlist when evaluating solutions was the recipient's ability to download content quickly, reliably and efficiently from virtually anywhere, regardless of where it was uploaded.
"And that's where MASV comes in," he says.
"We're able to provide a reliable, robust solution from that standpoint. Our clients can use it. They understand it. They don't have to figure it out. We don't have to provide instructions on the other end and we've got a way to deliver a viable download link to wherever they need to go."
Before deploying MASV, Sergeant says he often had to choose between expensive enterprise software or using several different tools in tandem to achieve a similar result.
"Our file sizes exceed a hundred gigabytes quite regularly. Apart from Aspera, there wasn't really a solution that viably addressed that until now," he explains, adding that MASV's combination of pay-as-you-go flexibility, limitless file sizes and simple efficiency is ideal for clients in the independent filmmaking world.
"Especially on the downloading end, for our filmmakers, we don't have to worry they're going to have software incompatibility issues or that they're not going to be able to access the service because it's port blocked."
Sergeant also says that, for times when help is required, MASV's always-on technical support is second to none. "I've dealt with too many companies where I'll have a technical question and end up talking to a sales rep who then must go talk to an engineer, and they get back to me when it's convenient," he adds.
"That's just not tenable, because with Internet delivery the idea is that we must do it now. We need it right now, and we need it to work right now, no matter what. So that provided me with confidence."
Quick, Reliable, and Efficient Large File Transfer
MASV: Top Notch Service for Less Money
Sergeant says Simple DCP was able to quickly consolidate its process for large digital file transfers after deploying MASV.
Affordability
The company can now offer top-notch service quality for less money than with an expensive enterprise solution like Aspera, and with less legwork, strong security and better auditing capabilities than through a remote server combined with other file transfer tools.
Indeed, if MASV wasn't available, Sergeant says Simple DCP "would need to go out and seek out a much more expensive proprietary solution to maintain the same quality of service."
The company sees "fantastic" performance with MASV when sending large digital files to other countries over extremely long distances, he says.
Reliable File Delivery
MASV's global accelerated cloud network ensures files are sent as fast as the user's Internet connection can handle, and are secured both in-flight and at rest. Recipients receive a download link that works anywhere without software downloads or technical training, that automatically expires after a set amount of time, and that keeps the same DCP file structure as the original.
"We feel comfortable that if a filmmaker in California was uploading their film for a festival in Spain, they could send it off and could feel confident that it would work."
Client Satisfaction
Above all, the advent of MASV at Simple DCP meant he and his client service team stopped having to field confused, angry, and frustrated phone calls from clients with technical problems getting in the way of time-sensitive downloads.
"My client service team is already inundated helping our clients understand the product they're purchasing, and how to handle the logistics in terms of getting content in and making certain that it gets out in a timely fashion," he explains. "The last thing they want to deal with is somebody's Internet connection.
"And the reality is that we would be answering 10 times as many phone calls to that effect if I were using any other service."
MASV File Transfer
Get 20 GB to use with the fastest, large file transfer service available today, MASV.