Pandemic. Remote work. The new normal. You've heard it all before. If remote file sharing to the cloud was a new experience for many a couple of years ago, it's now a fact of life for millions of professionals.
At MASV, we've especially noticed this paradigm among video and post-production professionals who need to share large video files from set across a daisy chain of production departments (editorial, VFX, coloring, sound, etc).
But just because we've been remote file sharing for a while doesn't mean there aren't new things to learn.
That's why we've assembled this list of the most important ways to share files with your team while working from home, along with best practices to keep your data safe, secure, and always available to those who need it most.
Consider this file sharing 101. You can thank us later.
Let's get this out of the way early – we're not going to pretend we're not biased here, although MASV really is the best file transfer app you can use.
But if we were to look at MASV objectively we'd be super impressed with the reliability of our file transfers, which automatically recover from internet drops and resume when you're back online. We'd be happy about our dead-simple user interface that anyone can use, and our pay-as-you-go file transfer. And we'd be positively giddy about MASV's built-in security and encryption for secure file transfer.
But above all, we'd love our TCP-based transfer on our global accelerated network of 300+ servers, which delivers up to 15 TBs fast and reliably but is far less likely to be blocked by firewalls than UDP-based transfer.
Pros
Industry-leading upload and download speeds (up to 10Gbps) with the reliability and fairness of TCP
Only charges users for downloads, which means all our transfers have to deliver — or you don't pay
Automated transfer retries in case of poor or interrupted connections
Built with security top of mind with strong TLS encryption and Trusted Partner Network certification
Easy workflow integrations such as our Dropbox integration and Google Drive integration
Cons
It's honestly hard to think of any. We've heard our PAYG flat rate can get a little expensive when transferring terabytes of data, which is why we also offer custom plans.
Pricing
Share Files With Your Remote Team
Get MASV for fast, reliable, and secure cloud transfers of large, sensitive files.
At this point Dropbox is pretty much universally known among internet users as an easy way to sync files. You can get started for free, although you only get 2 GB of storage with Dropbox Basic. And although the web version has some skimpy file size limits, there's no limit on files uploaded via the Dropbox apps.
For truly massive files, however, Dropbox can sometimes cause frustration, which has spurred some users to look around for a Dropbox alternative. That's largely because even though some users use Dropbox for file sharing, it's actually a file sync service.
Pros
Get started for free (for limited storage of up to 2 GB)
Desktop and mobile apps for every OS
Offline capabilities
Can sync your files automatically
Files at rest protected with 256-bit Advanced Encryption Standard (AES); multi-factor authentication available
Cons
Upload file size limit of 50 GB via the website or 100 GB via the free version
Typically slow and unreliable when uploading large files
Requires significant local hard drive space
Not a very intuitive user interface
Pricing
 Personal
Basic: Free
Plus: $11.99/month, $9.99/month with annual subscription
Family: $19.99/month, $16.99/month with annual subscription
Business
Standard: $15/month, $12.50/month with annual subscription
Professional: $19.99/month, $16.57/month with annual subscription
Advanced: $25/month, $20/month with annual subscription
Save Files to Dropbox, Google Drive, and MS Teams
Easily deliver any file from MASV to your preferred cloud storage.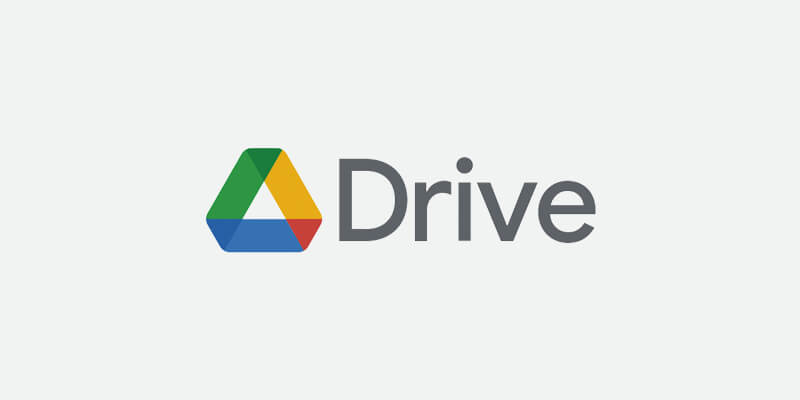 Google's sheer ubiquity means most of us are familiar with Google Drive. It's also compatible with many other apps and systems (including Windows, iOS, macOS, and Android), and is a super easy and convenient way to share lightweight documents for business file sharing.
However, it has been known to cause headaches (read the case study: Think Out Loud Studio) among those transferring super large video files, and its daily upload limit of 750 GB is unrealistic for most video pros in the 4K world.
If you're unfamiliar with the Google One and Google Workspace brand names, it's all good. Google One used to be Paid Google Drive Storage, while Workspace was previously known as G Suite, which before that was Google for Work, which before that was Google Apps for Your Domain. Don't worry about memorizing any of this – more name changes are likely incoming.
Pros
Simple user interface, easy to get started
Flexible platform that's compatible with many other apps and systems
Free account provides 15 GB of storage (200 GB of space is $30/year)
Strong SSL encryption
Cons
Users can only upload up to 750 GB per day
File size limits: Up to 50 GB per text document or 100 MB for presentations
Can be slow and unreliable when uploading large files (up/download speeds are entirely dependent on the strength of your internet connection)
Large file uploads often fail
Pricing
Google One
15 GB: free
100 GB: $2/month ($20 annually)
200 GB: $3/month ($30 annually)
2 TB: $10/month ($100 annually)
10 TB: $100/month
20 TB: $200/month
30 TB: $300/month
Google Workspace
Business Starter: $6/user/month
Business Standard: $12/user/month
Business Plus: $18/user/month
Business Enterprise: Contact sales
Save Files to Dropbox, Google Drive, and MS Teams
Easily deliver any file from MASV to your preferred cloud storage.
MS Teams passed the 270 million active user mark just a few months ago, although there are concerns that the platform's user growth may have stalled. Either way, since the pandemic, Teams has become a standard business collaboration platform, especially for larger enterprises wedded to Microsoft. But is it suitable for team file sharing?
The answer is: Sort of. While Teams is a potent collaboration tool, Microsoft Teams file-sharing can cause issues related to file organization, permissions, and data security. Its hard cap on upload file sizes is also highly limiting for video professionals.
Pros
User-friendly interface and easy implementation
Consolidates several tools in one platform, including chat, calendar, business apps, and video calls
No extra cost if you already have a Microsoft 365 (formerly Office 365) subscription
Free version of MS Teams comes with 5 GB of individual storage per user
Cons
File size upload limit of 250 GB (across all MS products, including OneDrive and SharePoint)
Slow upload speeds for large files
Sometimes confusing file structures, including channels and root folders
Links from conversations to files break easily if files are re-organized
Default permissions can create security risks (anyone can create a team, upload a file, or re-share a file)
Lack of notifications makes it easy to create duplicate teams
Pricing
MS Teams (5 GB individual storage): free
MS Teams Essentials (10 GB): $5/month
MS 365 Business Basic (1 TB): $7.70/month (Cdn)
MS 365 Business Standard: $16/month (Cdn)
Save Files to Dropbox, Google Drive, and MS Teams
Easily deliver any file from MASV to your preferred cloud storage.
WeTransfer is one of the most popular file-sharing services for creatives, and it's not hard to see why: It's easy to sign up and use, is relatively inexpensive, and has a distinctly creative vibe. Users who want to send small files without hassle can also sign up for WeTransfer's free service, which allows transfers up to 2 GB.
That's the good news. The bad news is that most WeTransfer plans have hard file size limits, and its performance is slow as measured by many file transfer speed tests. It's for these and other reasons many users eventually look for a WeTransfer alternative.
Pros
Simple to use, affordable
Senders receive a confirmation email
Web properties have a distinctly creative touch
Free option allows transfers of up to 2 GB
Cons
Prone to slowdowns and failures
File size limits: 2 GB free, 200 GB paid WeTransfer Pro
No auto-resume for interrupted transfers
File transfers expire after a few days
Banned in India since early 2020 due to security concerns
Pricing
 WeTransfer Pro
€12/month (including VAT) within Europe or $12/month outside Europe
Annual subscription €120/year (including VAT) within Europe or $120/year outside Europe
WeTransfer Premium
€23 per month (including VAT) within Europe or $23 per month outside Europe
Annual subscription €228/year (including VAT) within Europe or $228/year outside Europe.
Share Files With Your Remote Team
Get MASV for fast, reliable, and secure cloud transfers of large, sensitive files.
We've grouped these solutions in the same listing because they both offer enterprise-grade, UDP-managed file transfer. Indeed, they're so interchangeable in some ways that even Signiant says they're pretty darn similar.
Both Signiant and IBM Aspera offer UDP-based acceleration technology they say can accommodate 10Gbps connections (if your ISP and network can handle that). The biggest issues with Signiant and Aspera, however, are that they're not particularly user-friendly, are underpinned by the notoriously unreliable UDP file transfer protocol, and are needlessly costly.
They're also very time-consuming to implement, especially in restrictive IT environments. That's why many users are now on the hunt for an Aspera alternative or a Media Shuttle alternative.
Pros
Acceleration technology offers speeds faster than traditional FTP transfer
Works with private or public clouds, or on-premises storage
Cons
Very costly for mid-size and smaller
Can be surprisingly slow at times despite acceleration technology
Hard-to-use, unintuitive interfaces that often require training and tutorials
UDP-based, which is an unreliable protocol – if a data packet (called datagrams) gets lost along the way, it needs to be manually re-sent and the sender notified
Requires software downloads, plugin installations, firewall tweaks, and a considerable amount of technical IT skill
Pricing
Signiant
Flight: Starts at $35k/year
Media Shuttle – Not available (request a quote)
Jet – Not available (request a quote)
Aspera
Pay-As-You-Go: Starts at $1.24/GB
Standard: Starts at $934.80/year for 1 TB transfer volume
Advanced: Starts at $13,608/year for 6 TB transfer volume
Enterprise: Not available (request a quote)
Enterprise File Transfer Without The Complexity
Send files of any size, at max speed, anywhere in the world. Sign up below.
Best Practices: 5 Tips to Effectively Share Files With Your Team While Working From Home
Technology isn't enough to share large videos effectively and without incident. Several best practices can help keep things fast, efficient, and locked down from a security standpoint for secure file sharing for business.
Don't know where to start? Read our Secure Remote Workflow checklist.
1. Don't use personal emails or consumer-grade file-sharing software
You're asking for trouble if you share large files by email without using an accelerated file transfer service. That's because most personal email accounts are relatively insecure, and their restrictive file size limits mean you can't send large video files as attachments without major frustration.
Similarly, avoid consumer-grade file-sharing software which often store data as unencrypted text. Business-grade platforms typically have better security and compliance controls, from identity access management (IAM) tools to advanced encryption to SOC 2 Type II certification.
2. Follow the principle of least privilege
If clients, partners, or employees don't need access to specific data, then don't provide access. Otherwise, you risk a data breach due to access by unauthorized individuals.
Keeping your permissions granular and enforcing the principle of least privilege is an important part of a Zero Trust security posture. For scalability and extra security reasons, it often makes sense to develop a standard set of strict permissions that get automatically applied to all shared team folders.
3. Get security awareness training
Everyone you work with should ideally have at least a working knowledge of IT security best practices. Security awareness training ensures everyone knows what to do when confronted with a potential breach, along with how to prevent security incidents in the first place – from spotting email phishing attacks to the importance of keeping passwords secure and difficult to hack.
Organizations can work with a third party to arrange formal training, coordinate training with their IT group, or use publicly available information to conduct informal employee education. Robust content security assessments like the Trusted Partner Network is a great way to ensure file security. Very few cloud file sharing solutions are TPN-validated, MASV being one of them.
4. Keep data well-organized and integrated
Maintaining a well-organized and straightforward folder structure is always important, but it's especially vital when people work remotely and need to find files quickly. When it comes to file naming conventions, agree on a common and consistent naming and dating system – and stay disciplined.
Moving to remote work is also an opportune time to integrate all your data into one cloud platform instead of storing it on various physical hard drives, laptops, and expensive (and aging) on-premises databases.
5. Pick the right file-sharing service
Because nothing is more of a time suck than constantly fielding "how do I do this" type questions, selecting an easy-to-use file sharing service for remote work is especially important. It should be affordable, easy to set up and run, easy for employees and partners to use, and easy to integrate into your current workflows.
Share Files With Your Remote Team
Get MASV for fast, reliable, and secure cloud transfers of large, sensitive files.
In this guide, we looked at ways you can share files with your team while working from home. We looked at the most popular cloud transfer solutions and listed out the pros and cons. As a summary:
MASV:
✅ Unlimited file sizes, fast, reliable, secure, easy-to-use, and flexible
❌ Strong performance and fast transfer speeds come at a higher price point
Dropbox:
✅ Free to start, available offline, with encrypted transfers & storage
❌ Low file size limits, typically slow and unreliable when moving large files
Google Drive:
✅ Easy to get started, secure, with fair storage pricing
❌ Not built for large file storage and sharing — 750 GB cap per day
Microsoft Teams:
✅ Good for collaboration
❌ Faulty security, low file upload limits, slow speeds, prone to errors
WeTransfer:
✅ Free to start, easy-to-use, and affordable
❌ Prone to slowdowns and failures, file size limits per account, has been compromised in the past
Aspera/Signiant:
✅ Incredibly fast
❌ Very expensive, clunky, requires IT installation, not built for external collaboration
We also looked at five best practices for remote file sharing, specifically security:
Don't use personal email accounts to share files
Only provide access to files to those who need it
Get security awareness training
Agree on file naming conventions and get organized
Pick the right file-sharing service
Better team file sharing is the key to increased productivity and synergy amongst employees. This requires a file transfer solution that is easy to set-up, fast, reliable, secure, and simple enough to use so everyone on your team and third-party recipients can collaborate effectively, without delay.
MASV is all of those things and then some. Our robust file transfer platform gives users the speed and reliability of a premium enterprise service with the costs and simplicity of a cloud app. MASV is used by teams all over the world to move petabytes of data, fast. MASV is specifically built from the ground-up with security and large file transfers in mind, which means you can deliver sensitive content with confidence, regardless of the file size.
To get started with MASV, sign up and we'll throw in 20 GB free.
Try MASV for Free
Start today and send 20 GB for free right now.
MASV now works with your favourite apps
Integrations To Help You Streamline Your File Transfer Workflow.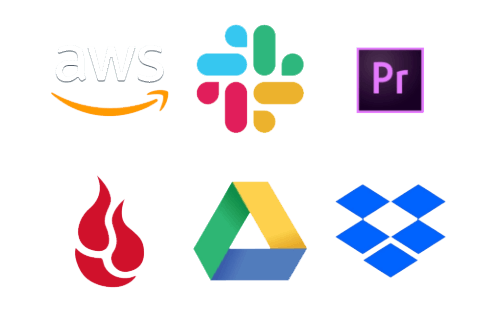 Fast, Easy, and Secure Transfer of Large Files
Create a free MASV account to get started