It's the middle of the night and you've just gotten an urgent client request: They need several hours of their raw 4k footage, and they need it now. Wouldn't it be great if you could just attach the footage to an email, hit send, and be done?
But of course, that doesn't work. Email file size limits remain crazy low – they simply haven't kept up with the times, even though video file sizes are increasing constantly and email remains an essential communications tool in any business.
You just can't send large files by email like this. Or can you?
Nowadays, sending large files by email isn't impossible by any means. There are a few different ways to skin this cat, and the first step is knowing what's allowed and what's not on your preferred platform – along with what you can do to get around those limits.
Not all email platforms are created equal when it comes to file attachment sizes – although, for most platforms, it's reasonable to expect a limit of between 20 and 25 GB. Although a "file size limit exceeded" notification can be incredibly frustrating when you're in a rush and needed to send the files yesterday, those limits aren't just there to torture you. There are several good reasons for their existence, including security and database/storage size concerns.
But the biggest reason for email attachment size limits is performance. Most email platforms use Simple Mail Transfer Protocol (SMTP), which was developed the same year "Eye of the Tiger" topped the Billboard Hot 100 (1982). Because of this dated technology most email platforms simply aren't able to transfer large data volumes.
Here's a breakdown of the file size limits of some of the world's most popular email platforms, courtesy of Mailtrap:
If you're hoping to send massive files through any of the above, you're clearly going to run into trouble – and that goes double for video professionals. As we mentioned earlier, video file sizes are exploding. According to this analysis, just one minute of 4k UHD video at 20 Mbps can take up as much as 84MB. If you're shooting many minutes or hours of high-quality video, you're talking dozens if not hundreds of gigabytes.
How to send large files via email?
There's hope for those who need to email large files, however, even if your platform's attachment size limit is a fraction of the file size you're trying to send. File Transfer Protocol (FTP) solutions have worked in the past, but have become seriously outdated. Couriering a hard drive loaded with your very large file is another tried-and-true method, but has major drawbacks including data security, possible damage en route, customs delays, and a lack of scalability (never mind all the transportation and delivery headaches brought on by the Covid-19 pandemic.).
Method 1: Accelerated large file sending services (Recommended!)
1. Accelerated cloud solutions (like MASV!)
The best option for video professionals who need to transfer large video files, even via email, is accelerated cloud file transfer platforms. And we're not just saying that because MASV fits this category – honest!
Accelerated file transfer services are built on accelerated cloud networks, so you get the best of all worlds including 90 percent of the raw speed of a UDP solution but without file size restrictions, bandwidth throttling, firewall issues, or complicated software to install.
It's Transmission Control Protocol (TCP)-based instead of UDP, eliminating the need for firewall tweaking to ensure file transfers get through. And it uses a simple, browser-based interface that makes dispatching large files as easy as sending an email, with no training or tutorials required. It's so simple, your recipients don't even need a login.
MASV also rides a dedicated global accelerated network of more than 150 servers worldwide, ensuring high availability and performance anywhere in the world with an internet connection. The platform keeps files available for 10 days before links automatically expire, so you don't need to do any housekeeping or file deletion to save space. And maybe the best part: MASV is pay-as-you-go and costs just $0.25/GB (so sending 1,000 GBs, for example, costs $250).
Files remain stored online for free during a 10-day delivery period and are then securely deleted, which means no going back to tidy up and delete files as you often do with your cloud storage. If you need files available longer, files can be stored for just $0.10/GB/month.
In addition to files being downloaded locally, you or your recipients can easily deliver to cloud – which is to say, send attachments directly to cloud storage without any downloading or re-uploading.
For those keen on using email for sending large files, MASV allows users to insert a delivery link into the body of any email. All you need to do is upload your files to MASV, select the Link option, set your download password, and then copy-and-paste the link into the body of any email from any email application. Simple!
MASV also offers a free trial that gives you 100GB worth of data to play with – so there's a good chance you'll be able to send large files by email for free.
No matter which option you choose, one thing is certain: The next time you get a last-minute client request to transfer a boatload of 4k footage halfway across the world, you'll be prepared.
2. Accelerated UDP solutions
UDP-based solutions such as Aspera, FileCatalyst, and Signiant allow for fast transfer speeds and have a good degree of reliability, but can be very expensive. Aspera starts at US$1.21 per GB, and its Advanced subscription, which allows up to six TB, clocks in at more than US$13k per year. These solutions also require a fair bit of technical expertise to install, fine-tune, and use, and are known to sometimes have problems with firewalls.
Method 2: Zipping and splitting
This one's the most technical of the bunch, but is your only option if you absolutely need (or just really want) to send your large file as an actual attachment. Zip files are great for condensing your data, but when you're dealing with hundreds of GBs of video you may need to chop those zipped files up even further to satisfy those pesky attachment size limits. Software such as WinZip or 7-Zip works great for this.
To split up your humongous Zip file into more palatable portions using software such as WinZip, simply do the following:
Open your Zip file
Open the Settings tab
Click the Split window and specify the desired Zip file sizes for each part (you can also enter custom sizes)
Click "Multi-part Zip File" under the Tools tab
Indicate the location on your hard drive you want the new files created in the Split window, and name the file
Mac users can also use the Terminal window of their OS X to split Zip files into more reasonable chunks. Check the instructions on how to do this.
Chopping up Zip files is an effective way to send large files by email. But it has several drawbacks. It's very technical and time-consuming compared to other options, for one thing, along with not being very elegant: No one really wants to receive 10 or 12 files (or more) at once and then have to piece them together again. So while this approach works, there are better options out there.
Method 3: Cloud storage and services
Using cloud storage to send large files is less technical than the above, and includes cloud storage options such as Google Drive, Dropbox, OneDrive or WeTransfer. If you want to send large files from Gmail, for example, an option to share your large file via Google Drive will automatically appear alongside the file size limit message. Or you can do it like this:
In Gmail, click "Compose"
In the bottom toolbar click on the "Insert files using Drive" option
Search for and click on your large file in the search box
Click "Insert"
But even this method of sharing large files has limits: According to Google, individual users can only upload up to 750MB of files per 24-hour period (although that limit increases to five TB if uploading a single file). Dropbox caps its upload size limit at 50 MB (Dropbox Transfer allows file sharing up to 100 GB). WeTransfer's limits top out at 2 GB per transfer via its free service, or 20 GB per transfer with WeTransfer Pro.
Sending large files through cloud storage has several benefits, with the most obvious being that it's dead easy and makes collaboration simple. Large files can also be shared with anyone through a simple emailed link (users can also set access permissions on uploaded files). Cloud options are also very cost-effective – WeTransfer Pro, for example, comes in at US$12 per month – and most offer both free and paid options. 
The main drawback of cloud storage for very large video files, however, is performance. As we discussed in a previous piece, cloud platforms are great for uploading documents, images, or compressed video, but weren't designed to transfer massive uncompressed video files. That means most cloud storage options are around 10 times slower than User Datagram Protocol (UDP)-based or accelerated file transfer options, making it less appealing for video professionals who need to transfer large files quickly.
Try MASV for Free
Start your 7-day trial and send 100GB for free right now.
MASV now works with your favourite apps
Integrations To Help You Streamline Your File Transfer Workflow.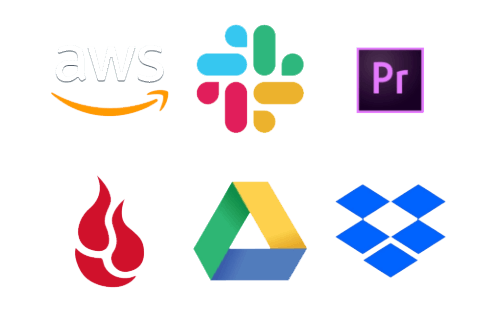 Frequently Asked Questions
What is the best way to send files by email?
The best way to send large files via email is to use an accelerated cloud file transfer platform like MASV.
What is the size file limit for sending files in different email clients?
Not all email platforms are created equal when it comes to file attachment sizes – although, for most platforms, it's reasonable to expect a limit of between 20 and 25 GB.
Ready to send files by email?