They say that an image is worth a thousand words. So, how many words do you think videos are worth? At least 10,000, right? 
Videos are the next step in engaging your audience on social media. According to a recent Quintly study, pictures are the most popular media posts on Instagram. However, videos enjoy 49% more engagement than picture posts. These numbers indicate that videos can help you boost brand visibility and engagement.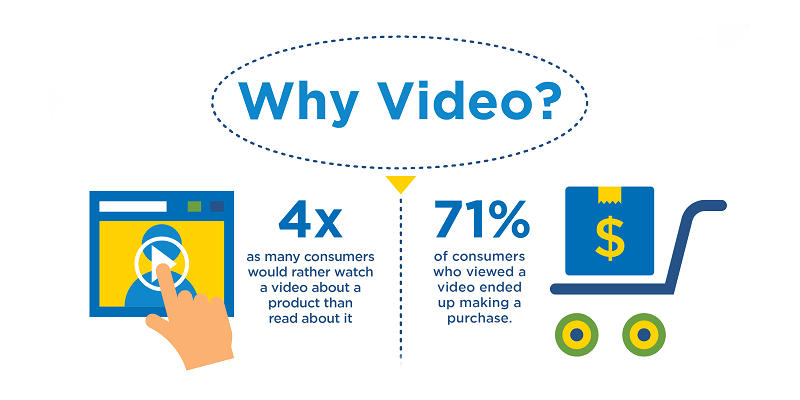 The next logical question revolves around what types of videos your brand should be posting. Here, we'll explore 9 of them and how your brand can take maximum advantage of them. 
Let's get into it!
File Transfer for Video Pros
Use MASV to send large media files over the cloud, fast.
Social media is a great way to keep your audience informed about your brand's latest product offerings. 1 out of every 3 customers use social media to discover new services and products. Therefore, creating video content to showcase product reveals and announcements is a good idea. 
You mustn't put out generic product announcement videos. Remember, video content will help the audience form a perception of your new product. Therefore, your product reveal videos should be exciting and leave a positive mark.
The way to achieve this is by encouraging your design team to add fun elements to the content. Eye-catching graphics, fun colors, and an exciting spin on highlighting product features can help you create an impactful 6-second video for your latest offering.
Nobody wants to feel left out. When you share posts about your brand's latest events, you trigger FOMO — the fear of missing out. Sure, you can send out a tweet or two about your latest event. You can even post a picture on the gram.
But pictures and texts are rarely enough to capture the vibe and excitement of your events. Enter videos. Video content will give your audience a realistic depiction of how interesting your brand event is.
You can go live on your preferred social media platform, broadcasting the event in real-time. But, few people have the patience to watch a live video for an hour. Sometimes, extenuating circumstances can make going live during the show an impossibility.
The ideal solution is to cover the event in its entirety. Then, break the coverage down into multiple teaser videos. Thankfully, tools exist to make sharing large files with the video production team easier.
These teaser videos will show the best bits of the event, capturing the vibrant energy of the show. You can upload these videos on YouTube, Instagram, and other social media platforms.
Related: Why Opus Agency trusts MASV to deliver footage from a live event to post as quickly as possible.
Share Full Livestream Recordings
MASV is the fastest file transfer service for large video files.
3. Promote Exciting Sales and Deals
Is your brand having a 20% off sale over the next month? That's something your audience wants to know. The default strategy is to create a graphic highlighting the sales offers. But focusing on images is a common content marketing mistake. 
Your brand can go one step ahead of the competition by announcing the discount through videos. You can then use regular graphics to keep up with promotions afterward.
A video post may be all that's missing in your bid to move old stock and get favorable results with the inventory ratio formula. Video content promoting exciting sales and discounts should be exciting and upbeat. Use eye-catching animations and graphics to ensure you have your audience's attention throughout the video.
Customers follow a brand on social media because the account delivers relevant content. And there's no better way to satisfy your audience's craving for relevant info than providing answers to commonly asked questions. 
You can interview customers, team members, and industry influencers for your Q&A videos. 
Preparing the interview questions yourself is one way to go. But you can always increase the engagement value of your video content by collecting questions from your followers. 
You can make a prior announcement and gather questions through comments on the posts. Then, assess these questions, picking those that'll suit the campaign theme. 
You don't have to interview other people all the time. A solo question and answer session where you answer your audience's crucial questions can put a different spin on your content. You can pre-record the interview and post it at your convenience.
Conversely, a short live video allows you to interact with the audience. The audience can send in their questions, and you'll answer them on the spot. Plus, you can record the live video and put it on your page for customers that missed it.
Podcasts are usually engaging and allow the audience to consume content without staring at a screen. 
Does your brand have a podcast, or are you looking to start one? Then, podcast teasers should be on your list of video content ideas. 
Podcasts are easy to make. You can even use video conference platforms to put an interesting spin on it. But it can be tricky for listeners to understand what a podcast is about without a visual aid. 
Podcast teasers can plug that information gap, ensuring your audience knows exactly what to expect from your podcast. 
Plus, with the evolution of video editing tools, there are no limits to your creativity. You can use bullet points and animation to depict what listeners can expect from the latest podcast episode. You can also include voice excerpts from the podcast in your teaser video.
Related: Best Microphones for Recording, Streaming, & Podcasting in 2022
6. Tell Relatable Stories
If you can relate to it, the odds are high that you're going to want to be a part of it. Use social media to tell stories your audience relates to, and they'll love you for it. 
They shouldn't just be random stories, either. These stories should revolve around product offerings or your brand at large. It's also important that your brand offerings are not lost in the story's intrigue.
For example, say your brand sells ergonomic chairs that help alleviate back pain and boost workplace productivity. A video with a relatable story about back pain (something your audience knows all too well) is a great content idea for your social media page.
7. Tutorials and Explainer Videos
According to Mediakix, tutorial videos rank second on the list of popular video types on YouTube. And up to 91% of smartphone users watch tutorial videos on YouTube, especially while executing tasks. 
People use social media for entertainment or as a distraction. But it's also a source of knowledge and answers to curious questions. 
Therefore, explainer videos are a way for brands to put out intentional, product-focused content to satisfy their audience's thirst for knowledge. Plus, it's an avenue to soft-sell products to your audience without any input on their part. 
Your audience doesn't have to sign up or subscribe for a product demo. But you can still give them a tantalizing sneak peek of your product and the way it works with a tutorial video. 
You can repurpose popular tutorial articles on your blog for explainer videos. Then, you can post these videos on TikTok, LinkedIn Stories, or Instagram highlights. 
For B2B and software services, you can do a live video session by using a screen share app to tutor your audience and allowing customers to ask questions. You can always record the session and repurpose it for social media. 
8. Behind the Scenes Video Content
Behind the scenes (BTS) video content will give your audience an exclusive look into what the company does. The best part is you can choose between people or product themes for your behind the scenes video. 
A great example of a product-oriented BTS video depicts the making of said product. This video type is a great way to teach your audience about your product. 
Another example is a virtual video tour of your production facility or office. With careful editing and top video creation tools, BTS tours can be quite effective for brands whose products are B2B or technical.
People-oriented video content is a great idea for SaaS brands. You can showcase the company's culture with a video of brainstorming sessions, troubleshooting methods, and more. 
If the team is meeting virtually, you can record it and show your audience how the company is working from home.  "A day in the life" videos featuring your employees is another example of great BTS video content for social media.
Word-of-mouth feedback is still a powerful tool, even in today's digital age. Reviews, testimonials, and customer case studies can boost brand trust and loyalty.
Up to 89% of consumers look for product reviews before making a buying decision. Therefore, creating customer testimonial videos will make it easier for prospects to decide that your service is right for them. 
By using content from previous customers, you validate your company's products. And by posting them on social media, you make customer testimonials accessible and, more importantly, shareable.
Engage Your Audience With Video Content
The social media video ideas above will help bolster your content strategy. And with metrics like average order value (check for AOV meaning), you can track how well your efforts to boost customer engagement are doing. 
Maximize the examples above to strengthen your brand reach and engagement!
Jenna Bunnell – Senior Manager, Content Marketing, Dialpad
Jenna Bunnell is the Senior Manager for Content Marketing at Dialpad, an AI-incorporated cloud-hosted unified communications system that provides valuable call details for business owners and sales representatives. She is driven and passionate about communicating a brand's design sensibility and visualizing how content can be presented in creative and comprehensive ways. She has written for domains such as Shift4Shop and CEO Blog Nation. Here is Jenna's LinkedIn.
MASV File Transfer
Get 20 GB to use with the fastest, large file transfer service available today, MASV.