MASV Worldwide: How MASV Portals help filmmakers and film crews move large video files around the world – quickly and easily
We at MASV often get great questions from clients about our capabilities to help them send and receive large files. We recently received some interesting queries from clients producing films in countries around the world – so we thought, why not provide these answers for everyone? 
This is the first in a series of articles on MASV Portals, the world's fastest way to send and receive digital assets such as large video files anywhere in the world. Let's get started.
Q: I'm producing films shot in four different countries – local crews will shoot the footage, and I'll then do all editing and post-production work in a different country. Can I use my MASV account to enable each crew to upload files from their location, without them needing their own MASV accounts?
A: Absolutely. This is a great question we get a lot from filmmakers and post production houses working with crews in other countries, such as remote video teams shooting content in Asia that need to quickly get that content back to editors in L.A., for example. Here's all you need to do:
If you haven't already, open a MASV account (for free) and set up a Portal (you can even add your company's branding and colors to the Portal)

Email the Portal URL to your film crews, wherever they may be in the world
And that's it! Your crews can then do one of two things, without the crews needing to log in or even have a MASV account:
Smaller video files can be uploaded to your MASV Portal via any web browser

For large video files of 20 GB or more, we recommend senders use our

MASV desktop app.

The app allows transfers to be intentionally paused and resumed, recovered from lost connections, and resumed if a computer goes to sleep or crashes
Q: But what about performance? If I'm working with film crews around the world, will they run into performance issues depending on where they're located?
A: In the vast majority of cases, no. That's because MASV automatically geolocates customers using our service to our closest data center. Our global network is powered by 160 servers around the world, their uploads will always be conducted via the closest region. So if you're in India your upload will run through our Mumbai data center. If you're in the Asia Pacific region, your data will run through Singapore. And if you're in Australia you'll upload to our Sydney data center. This powerful and secure global network of servers powered by Amazon Web Services (AWS) ensures enhanced reliability and some of the fastest upload times in the industry.
Q: Because my film crews are thousands of miles away, I often receive these uploaded large video files in the middle of the night. Do I have to then manually download them to my computer? 
A: You don't, because you can set your MASV Portal to conduct automatic downloads – an especially useful feature when film crews are on the other side of the world and in different time zones. All the receiver needs to do is install our desktop application on their workstation and configure an Automation. As long as the workstation is online, once the upload has completed, it will immediately start downloading by the recipient. That means no more waiting for downloads first thing in the morning in order to start editing or doing other post-production work. 
Q: What about if I'm a producer or filmmaker, but need to send large video files to my editor in another country? 
A: This is another great example of the power of MASV. All you need to do in this case is upload your large video files to your MASV account. After that, there are two ways to send the files to stakeholders: 
Send the files within MASV itself. In this case, MASV automatically emails the recipient a download link once files are uploaded

Manually provide the download URL to your recipients
The sender will get a notification when the recipient begins downloading the files. Recipients have the choice of downloading all files in a transfer package or selecting only the files they need. And thanks to our vast global server network, these downloads always run via the data center that's closest to them.
Q: Are there any pricing differences between all these approaches?
A: No – the same $0.25/GB charge applies when any data is downloaded from MASV, since we don't charge for uploaded data. We also provide unlimited storage for 10 days, which can be extended for $0.10/GB/month if you need to store the files on MASV for a longer period.
MASV Portals allow filmmakers, editors, film crews, post production houses or anyone else to collect large video files from anyone – anywhere. And it's free for your contributors to use. Just share your Portal URL with them to your custom-branded MASV Portal, and we'll do the rest. 
MASV now works with your favourite apps
Integrations To Help You Streamline Your File Transfer Workflow.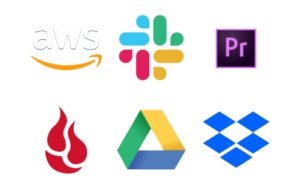 Try MASV Portals for your long distance transfers today
Click the button below to start your free trial today. Want to create more advanced integrations with MASV? Email us at [email protected]
Try it free with our 100GB, 7 day trial.